Princes Farm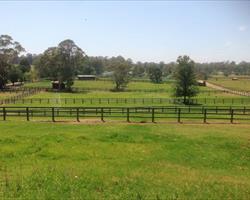 Princes Farm, in its present form, was designed by Bart Cummings and he christened it "Equine Paradise, Horse Heaven". It is the main pre-training and agistment facility that we use for our horses.
A picturesque property nestled at the foot of the Blue Mountains, with the banks of the Nepean River as one border, the Penrith Lakes System another whilst sitting on the corner of Smith Road and Castlereagh Road at Castlereagh. An easy one hour drive from Sydney it is 150 acres of 'equine paradise' with gently undulating paddocks, strong fencing, shelter sheds in every paddock and shade trees all around. Princes provides the perfect environment for broodmares and foals, developing weanlings, yearlings, spelling  and pretraining racehorses. We have a 1000m sand track and easy access to nearby Hawkesbury Racecourse as and when required. Princes is also home to resident stallion 2009 AJC Derby winner 'Roman Emperor'.
Fully irrigated, Princes Farm is a one-stop shop for our horses needs and we invite you to come and see what it has to offer (by appointment only).
Princes Farm T: 02 4776 1117   E: lyn.forwood@princessfarm.com.au