Cummings Bucks Trend With Believe
May 06, 2016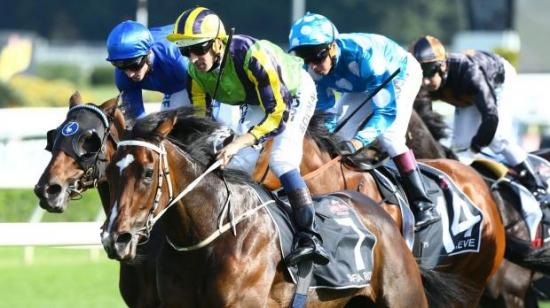 Bart Cummings won the Australasian Oaks four times - and even he would be nodding knowingly from above with how son Anthony has cuddled a filly in her maiden racing preparation to the brink of his first Adelaide classic.
Believe is Cummings jnr's latest project in nursing an untapped three-year-old deep into the group 1 furnace despite having not been seen at the races until February. Reason to Believe: Anthony Cummings' filly (blue with white spots) almost caused a boilover in the Australian Oaks.
And he has no reason to stop now after the filly defied her huge price to come close to snatching the Australian Oaks in Sydney. Advertisement
"The thing is it's their first racing preparation, but they've had a pretty solid grounding from the outset," Cummings said. "They come in and do their work and it's like brick on brick on brick and building a wall. If we're not satisfied with them or not happy with them they don't go to the races.
"Say with Montaigne, he was up and close to go to the races two preparations before he got there. For various reasons it wasn't appropriate to run him and he needed further time and maturity to take that jump. This filly is not dissimilar.
"She showed a lot of promise, probably even earlier than what Montaigne did. She put her hand up to be a group filly 12 months ago and it was just a matter of waiting for the right time."
The time might be now. A nondescript maiden on Newcastle's Beaumont track is hardly the proven recipe for winning at Morphettville on a group 1 day a few months later, but Believe is bucking the trend.
Ladbrokes rate only three other Australasian Oaks rivals ahead of her in betting with Believe listed an $8.50 chance on Friday. Cummings is adamant she should be making the long trip via Melbourne already a major winner.
"We went [to the Australian Oaks in Sydney] expecting her to win," said Cummings, who has only sparingly sent runners to Adelaide for the fillies' classic and is yet to have a placegetter. "She had to overcome a few hurdles to be there at the finish and she did all that.
"And she's trained on nicely and she's had half a dozen gallops in the Adelaide direction and she's coped very well with that. It's a bit late I suppose to be starting as an autumn three-year-old, but the education from 12 months ago had her heading to the Oaks in Sydney."
News by Adam Pengilly, Sydney Morning Herald
[06/05/2016]