Anthony Cummings Chases BMW Double With Montaigne
Mar 26, 2016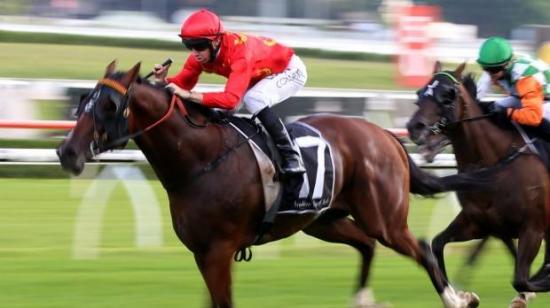 Anthony Cummings will be out to put a rare stamp on the BMW at Rosehill Gardens on Saturday, at a time when trainers are under siege by cobalt, emphasised by the recent departure of Peter Moody.
Many legends have fallen foul of the rules of racing, which Moody breached with cobalt, the potency of which is still questionable.
Still it's a matter of whether the sentence fits the crime. Moody has presented much of what is good about the turf, and a fine would have been more fitting than a six-month suspension.
After all, the cost of defending a racing infringement in the modern day far surpasses that of when the Australian Jockey Club and Victoria Racing Club controlled the industry. Advertisement
Turf justice then was quick, often lethal but on reflection worked in the best interests of the industry, superior to the long, drawn out hearings in the current Victorian chapter.
Now headed to the spelling paddock, Moody won the BMW with Manighar in 2012 while the master, and father of Anthony, Bart Cummings, was successful three times, once with Beau Zam (1988), a boom three-year-old, the same vintage as Montaigne, prepared by Anthony, who is chasing a double with the age in the weight-for-age staying test this year.
Anthony notched the BMW in 2013 with Fiveandahalfstar but he was having his 20th start while Beau Zam was on 19, more seasoned than Montaigne going into it with only six races to date in his first campaign. Apart from the trainer, Montaigne has another similarity with Fiveandahalfstar. Both geldings were by sires prepared by Cummings.
Fiveandahalfstar was by Hotel Grand while Cummings went to the South Island of New Zealand where Road To Rock, who also raced for him, now stands to secure Montaigne.
Obviously the trainer knows what is required from a three-year-old and figures Montaigne should have finished closer – beaten 1.8lengths – to the highly talented Tarzino, in the Rosehill Guineas last Saturday. Tarzino would have been strongly fancied in the BMW.
Being tardy at the start has been a problem for Montaigne and Cummings is hopeful a clean break out of the barriers under Damian Oliver will enable him to take up a better position.
Still the 2400 metres concerns me, particularly as Montaigne is out of Stylish Bel, a Bel Esprit mare, noted more for speed than stamina. The credentials of Preferment, winner by protest in the Australian Cup at Flemington last start, influence me. Maybe a rain-affected track, or even give in the surface, will bring the best out of Our Ivanhoe but Mongolian Khan, downed by colic last spring, hasn't looked the same horse in Sydney this campaign.
News by Max Presnell, SMH
[26/03/2016]