Well-Backed Pennsylvania Ave Breaks Maiden
May 20, 2016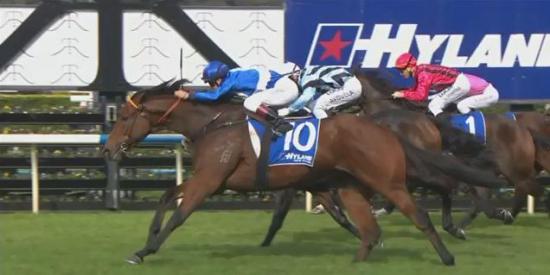 When the gates opened, you could have started to think the race may have been all over for three-year-old Pennsylvania Ave, especially after race caller stated "Very good roughie tried Pennsylvania Ave" as he walked into the starting gates...but there was never any need for worries although he settled in last.
After the field had gone a few hundred meters, the next comment from the race caller "Pennsylvania Ave, not stretching out at all well in the early part" would have had you worried again, as the Encosta de Lago gelding was about three lengths off the last horse!
Having his fourth run for the stable, after initially starting his career with another trainer, the Gerry Harvey bred and raced Pennsylvania Ave, a full-brother to dual Group 1 winner Delago Deluxe had race fitness on his side and jockey Taylor Marshall just kept his cool at the back of the field.
As King Viv was racing ungenerously in the lead, just on the outside of Poldark, race favourite Firebird Flyer was still many lengths off the leader and needing luck – just like Pennsylvania Ave.
King Viv led the field into the home turn, and the field fanned across the Randwick straight, with Pennsylvania Ave pulled right across the back of the field by Marshall to commence his run.
Favoured runners Go Benny and Firebird Flyer were the two immediate horses to his inside, and all three were starting to work home down the outside of the pack.
The Glyn Schofield ridden Most Exalted took the lead with Firebird Flyer making his challenge while Pennsylvania Ave has started to spout wings down the middle of the famed Randwick track.
At the 50m mark it was evident that Pennsylvania Ave had momentum on his side as the well-bred runner descended on the leaders to win the Hyland Race Colours Maiden Handicap by a short neck from the favourite – race win can be viewed here.
Breaking his maiden over the 1600m, Pennsylvania Ave's pedigree is full of black type performers over a sprint trip such as Duporth, Tickets, Caliente, Excites, Staging as well as the previously mentioned Delago Deluxe, so it will be interesting to see what kind of a trip Pennsylvania Ave gets with time.
Congratulations to owner breeder Mr Gerry Harvey on the impressive maiden victory.
[20/05/2016]